Remote Social Media Roles: Online Opportunities
Navigating the world of social media careers can open up amazing opportunities. Did you know the global social media industry is set to reach a whopping $355 billion? This blog post will serve as your personal guide, lighting the path towards high-paying jobs in this rapidly growing field.
Get ready to take your career to new heights!
Understanding the Popularity of Social Media Jobs
Social media jobs have become increasingly popular due to the high demand for social media professionals in the global industry.
Businesses worldwide depend on social media to spread the word about their products and services. This has opened up a wealth of possibilities for anyone looking for remote work online.
High Demand for Social Media Professionals
From Instagram to TikTok, today's social networks provide a better way for businesses to connect with their customers. But managing communication over multiple platforms requires a lot of work. And that means an array of new work options.
You, too, can take advantage of these openings, even if you have no prior experience or relevant qualifications. Wherever you are in the world, you can build a successful and lucrative career in this exciting, fast-growing niche.

Key Skills for a Career in Social Media
Social media communications is one aspect of the larger digital marketing industry. And this whopping industry has created hundreds of thousands of jobs around the world. When you develop skills in this niche, the world is truly your oyster.
To succeed in a career in social media, you need a range of skills to help you stand out from the crowd. Fortunately, it's not difficult for anyone to learn the practicalities. All of these skills can be easily acquired using free sources such as YouTube videos.
Analytical Skills
You need solid analytical skills for high-paying social media jobs. These skills help you to use tools like Google Analytics and BuzzSumo which professionals use to manage and measure their campaigns. They allow you to dig into customer data and understand trends that affect sales and performance.
Social media professionals with strong analytical skills are always in high demand. And the need for such experts is expected to grow rapidly in the years ahead.
Creativity
Creativity plays a big role in social media jobs, helping posts and messages stand out. Creative people can think of new ways to share ideas or sell products, leveraging the true power of social media to achieve amazing results.
Being creative also includes thinking up fresh ideas, solving problems in new ways, and finding better methods to engage with followers. Businesses worldwide need creative people who can make content that pops and grabs attention.
In this field, those who are more creative often do better. So you will never be bored working in this sector. You can always make good money doing creative tasks such as writing posts, designing pins, and sharing content.
Communication and Time Management
Good communication skills are a must in the social media world. These help you make great content, engage with followers, and generate more clicks on content. You also need to be good at using your time effectively. This means making plans for scheduling posts, keeping track of likes and shares, and ensuring that campaigns stay on track.
Opportunities in Social Media Jobs
Social media jobs offer diverse opportunities for those committed to achieving success. Even if you are new to this type of work, you can easily find an entry-level job. From there, you can work your way up to higher levels of success.
The range of jobs offered is constantly changing. But here are some of the most popular options for you to consider.
Social Media Manager
Social Media Managers take care of a brand's social media presence. They plan and post content on sites like Facebook, Twitter, and Instagram. Every day they look at the data to see how well the posts are doing.
They use this info to create better plans for future posts. These pros also talk with customers online and solve their problems. Sometimes, they work with other teams in the company to make sure everyone shares the same message about the brand.
This job is growing fast as more brands see how important social media is for business.
Community Manager
A Community Manager takes care of social media tasks. This job is key in many areas like eCommerce, travel, tech, games and fashion. To get this job, you need a strong resume and portfolio.
Meeting people online or at big events can help too. Once you start this job, your network can help you move up fast.
Social Media Strategist
Social media strategists play a key job in the social media world. They make plans for a company's online presence, ensuring the business gets maximum exposure at minimum cost. In a competitive world, it's important to get your strategy exactly right. That's why so many companies pay top-dollar to hire the people for this role.
The key to success in this role is having an in-depth understanding of the market and knowing how each social media platform works. Based on this knowledge, you can then build a plan designed to increase reach, sales, and profits.
Content Strategist
Content strategists play a vital role in the world of social media jobs. They are responsible for planning and creating content that aligns with a company's goals and target audience.
Whether it's for an eCommerce brand, travel industry, technology company, gaming industry, or fashion brand, content strategists ensure that the right message reaches the right people through social media platforms.
To land a high-paying social media job as a content strategist, it is essential to showcase your skills through a strong resume and portfolio. You can find exciting opportunities by exploring social media job boards, browsing company websites directly, or searching on popular job search engines like Indeed.
Brand Ambassador
Brand ambassadors are individuals who promote a brand or product on social media platforms. They have the flexibility to work full-time, part-time, or even as a side gig. They play a key role in helping a brand keep a high profile in the market, allowing customers to experience products they may like to purchase.
Brand ambassadors can earn around $20 to $25 per hour and experienced ones can make over $45 per hour. Becoming a brand ambassador is an excellent opportunity to earn money while promoting the brands you love on social media. The demand for brand ambassadors has grown significantly in recent years and is set to explode in the future.
Influencer
An influencer is someone who has a large following on social media and can influence the opinions and purchasing decisions of their audience. They have built a reputation as experts or trendsetters in a specific niche, such as fashion, beauty, fitness, or travel.
Influencers collaborate with brands to promote products or services through sponsored content. They often receive free products or are paid for their endorsements. With the increasing popularity of influencers, more companies are seeking them out for marketing campaigns.
In fact, social media jobs in this field are growing six times faster than other online job postings combined. So if you have a strong online presence and love sharing your passion with others, becoming an influencer could be a high-paying opportunity in the world of social media jobs.
Advantages of Working in Social Media
Working in social media offers several advantages. Firstly, the global social media industry is growing rapidly and projected to become a trillion-dollar industry in the future. This means there are plenty of job opportunities available.
Secondly, social media jobs can be found in various industries such as eCommerce, travel, technology, gaming, and fashion. This allows individuals to work in a field they are passionate about.
Additionally, social media professionals have the flexibility to work remotely or from home. They can also enjoy benefits like competitive salaries and opportunities for career growth.
Moreover, working in social media allows individuals to be creative and innovative while engaging with customers and building brand awareness through effective marketing campaigns.
Lastly, networking plays a crucial role in finding success in this field as it helps expand professional connections and opens doors for potential collaborations or job opportunities.
Crafting a Winning Resume
Crafting a winning resume is crucial when applying for social media jobs. Here are some tips to help you create an impressive resume:
Clearly showcase your educational background, work experience, and relevant skills.
Highlight any social media certifications or courses you have completed.
Include specific examples of successful social media campaigns or projects you have worked on.
Emphasize your analytical skills, creativity, and communication abilities.
Use bullet points to make your resume easy to read and scan for recruiters.
Keep the resume design clean and professional, with consistent formatting throughout.
Finding High-Paying Social Media Jobs
There are many different ways to find social media jobs. And with so many jobs on offer, you may find it hard to know where to start. So here are some tips to help you get started. 
UsingJob Boards and LinkedIn
Job boards like Indeed and professional networking platforms such as LinkedIn are valuable resources. These platforms allow you to search for opportunities based on location, keywords, industry, and experience level filters.
You should take advantage of these tools to maximize your chances of finding the perfect job. Make sure that your resume and portfolio are error-free, since automated software often scans them for mistakes. You don't want to make a bad impression right out of the gate.
With the right approach, job boards and LinkedIn can help you connect with potential employers and land a rewarding career in social media.
Direct Applications via Company Websites
One effective way to search and apply for high paying social media jobs is by directly applying through company websites. Many companies have dedicated career pages on their websites where they post job openings.
This allows job seekers to find and apply for relevant positions easily. It's important to note that social media job postings are growing rapidly, making it crucial for applicants to stand out from the competition.
To increase your chances of success, ensure that your resume and portfolio are error-free as automated software is often used in the initial screening process. Additionally, be prepared for interviews by thoroughly researching the company and the interviewer beforehand.
Paying Social Media Jobs
We've saved the best until last. Paying Social Media Jobs is a site that's dedicated to helping regular folks like you find lucrative gigs in the social media world. For over 10 years, this site has been connecting people worldwide with jobs they can do from anywhere.
Getting started is easy. Just complete the short, one-minute quiz to see which job opportunity suits you best. Then submit your application and get ready to start work. Tens of thousands of people have launched their careers in social media this way…and you can, too!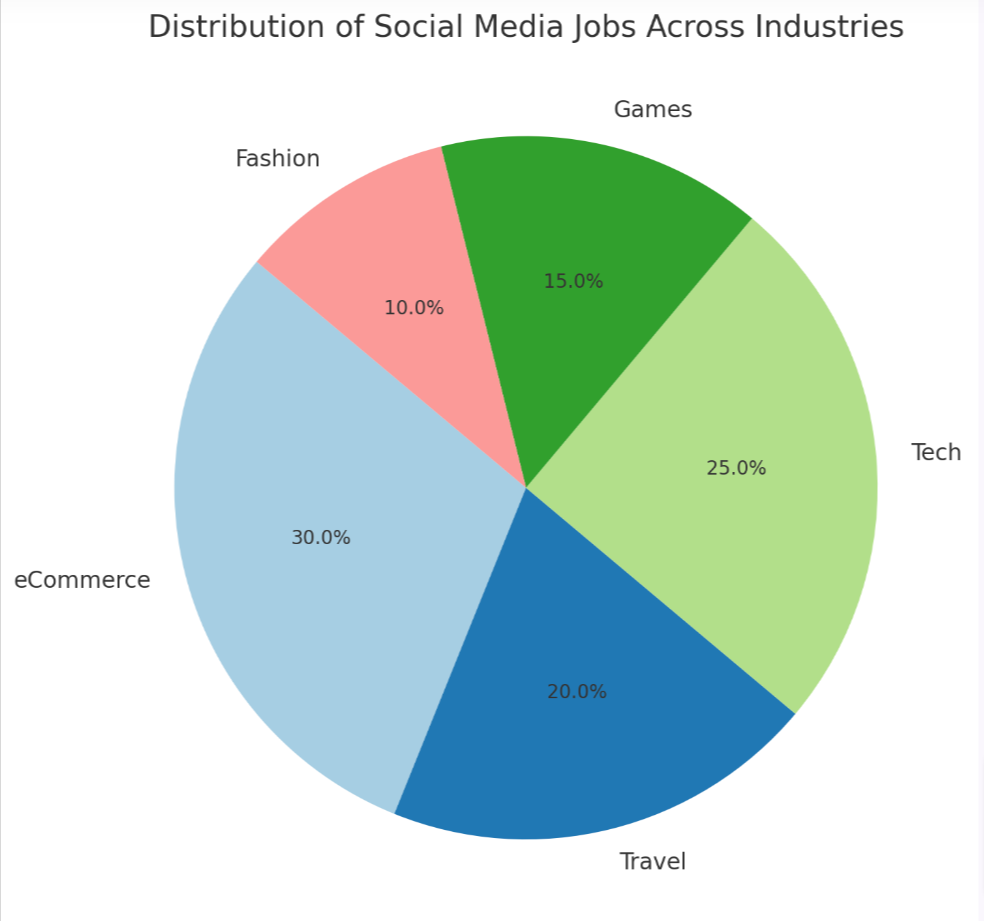 Preparing for Interviews and Negotiating
Here are some quick tips to help you prepare for interviews and negotiate salary:
Conduct thorough research on the company and the interviewer to demonstrate your knowledge and interest.
Practice answering common interview questions, focusing on relevant skills and experiences.
Prepare examples of past accomplishments that highlight your abilities in social media management.
Dress professionally for virtual or in – person interviews to make a good impression.
Show enthusiasm and confidence during interviews, highlighting your passion for social media.
Ask thoughtful questions about the role, company culture, and growth opportunities to show your genuine interest.
When negotiating offers, consider factors such as salary, benefits, flexible work arrangements, and professional development opportunities.
Approach negotiations with honesty, respect, and a clear understanding of your value in the market.
Exciting Opportunities
The demand for high-paying social media jobs is on the rise. With the global social media industry booming and job postings growing rapidly, there are plenty of exciting opportunities available.
By honing your skills, crafting a strong resume, utilizing job search methods like social media boards and company websites, and preparing well for interviews, you can find success in this dynamic field.
Start exploring now and unlock your potential in the world of social media jobs!