The Top Echelon of Social Media Careers
Social media careers offer excellent remuneration for work that's interesting and enjoyable. If you have the willingness to succeed, the sky's the limit. And this is true regardless of where you live or how much experience you have.
Even if you are a total rookie, it's possible to ascend the ladder to success, securing a high-paying remote job that you can do from anywhere in the world. This truly is a revolution in the way people work, and now is absolutely the best time to start.
But navigating the world of social media careers can be a daunting task with countless opportunities to consider. So this article will guide you through those top-tier jobs, their salary ranges, and where you can find such exciting opportunities.
Top High-Paying Social Media Careers
Social media is still a relatively new phenomenon, so the type of jobs available is evolving year by year. Plus, the advent of new technologies such as AI is constantly creating new types of work. Many of these pay extremely high salaries because demand greatly exceeds supply. If you can figure out how to meet that demand, the world is truly your oyster.
Social Media Consultant
A social media consultant provides strategic advice and services to help organizations and businesses effectively use social media. Their typical duties and responsibilities include:
Auditing a client's current social media presence and making recommendations for improvement
Creating social media strategies and plans tailored to clients' goals
Setting up and optimizing social media accounts/profiles
Providing training on best practices for social media posting, engagement etc.
Generating quality content across different platforms like Instagram, Facebook, Twitter
Monitoring social conversations and analyzing performance metrics
Reporting on results and ROI of social media efforts
Keeping up-to-date with the latest trends and tools in social media
Managing clients' social media campaigns and initiatives
Providing ongoing support and optimization recommendations
In terms of earnings, social media consultants can make:
Entry-level: $40,000 – $60,000
Early career: $60,000 – $80,000
Experienced: $80,000 – $120,000
Senior consultants: $120,000 – $150,000+
Rates vary based on experience, location, services provided and whether they work independently or for an agency. Established consultants can earn over $200 per hour. Overall, it is a lucrative role in high demand.
Vice President of Communications
Vice President of Communications is a senior role that pays extremely well. Depending on the kind of company you work for, you can expect to make from $100,000 to $350,000 per year. You may also receive big company benefits, such as paid time off, health insurance and other perks.
A social media vice president (VP) of communications is a senior executive role focused on overseeing an organization's social media strategy and messaging. Their key responsibilities typically include:
Developing and implementing social media plans aligned with broader organizational goals
Managing a team of social media managers, coordinators, and specialists
Leading strategy for social platforms like Facebook, Twitter, Instagram, LinkedIn, etc.
Ensuring brand consistency and voice across social channels
Monitoring trends, metrics, and performance to optimize social media campaigns
Acting as a brand spokesperson and point of contact for press and media
Overseeing crisis and reputation management on social platforms
Coordinating with marketing, PR, customer service, and other departments
Staying on top of social media innovations, technologies, and best practices
Reporting on social media efforts and ROI to key stakeholders
Establishing policies and governance for organizational social media use
Managing relationships with social media influencers and brand advocates
The VP of social media communications plays a strategic role in amplifying the brand, engaging audiences, mitigating risks, and driving growth through social platforms. Strong leadership, communication, analytical, and multitasking skills are essential for success.
Social Media Content Creator
A social media content creator is responsible for producing engaging content for an organization's social media channels. Their key duties typically include:
Creating content in various formats like text, images, graphics, videos, live streams, Stories, Reels etc.
Developing content calendars and plans aligned with broader marketing initiatives
Writing compelling captions and copy that fit each platform's tone and style
Optimizing and scheduling posts using social media management tools
Monitoring conversations and responding to comments and messages
Analyzing performance data to identify best practices and areas for improvement
Collaborating with designers, videographers, and other creative teams
Staying up-to-date with latest social media trends, features, and best practices
Capturing quality photos and videos for social platforms
Promoting engagement through hashtags, tagging, polls, quizzes and other interactive content
Maintaining brand consistency across social channels
Supporting paid social advertising and influencer campaigns as needed
Reporting on content metrics and performance to guide future strategies
The role requires creativity, copywriting skills, analytical thinking, social media savviness, and the ability to adapt content for different audiences and platforms. In this role, you can expect to earn between $80,000-$200,000 a year.
Social Media Director
A social media director is responsible for overseeing an organization's entire social media strategy, presence, and messaging. Their key duties typically include:
Developing and implementing overarching social media plans and campaigns
Setting goals and objectives for social platforms like Instagram, Facebook, Twitter, etc.
Leading a team of social media managers, coordinators, and creators
Monitoring and analyzing social media data and metrics to inform strategy
Managing content calendars and ensuring brand consistency across channels
Coordinating with marketing, PR, customer service, and other departments
Staying on top of social media trends, innovations, and best practices
Overseeing social media budgets and ad spending
Reporting on performance and ROI of social efforts for executives
Identifying partnership and influencer marketing opportunities
Establishing and enforcing social media policies and governance
Acting as lead brand spokesperson across social platforms
In terms of salary, social media directors can expect to earn:
Entry-level: $50,000 – $75,000
Early career: $75,000 – $95,000
Experienced: $95,000 – $125,000
Late career: $125,000 – $150,000+
Salaries can vary based on factors like location, company size and industry. Directors at large corporations or agencies in major cities tend to sit at the higher end of the pay scale. Overall the role offers strong earning potential for social media professionals.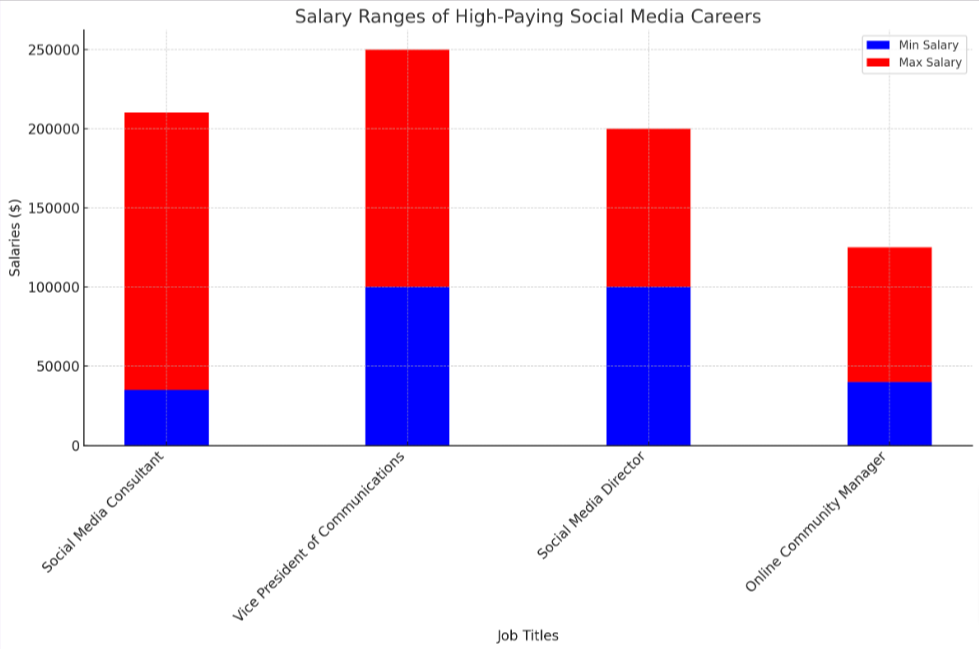 Social Media Community Manager
A social media community manager is responsible for building, engaging with, and managing an organization's social media communities and audiences. Their key duties typically include:
Creating and managing content calendars for social platforms
Developing social media campaigns and initiatives to engage users
Responding to comments, queries, feedback in a timely manner
Monitoring conversations and identifying engagement opportunities
Analyzing community metrics and sentiment to optimize efforts
Collaborating with marketing, customer service, and other teams
Staying up-to-date with social media best practices and trends
Creating content formats like chat sessions, Reddit AMAs, contests etc.
Promoting UGC (user generated content) and hashtags
Managing potential brand crises and negative feedback
Reporting on community growth, engagement, and ROI
In terms of salary, a social media community manager can expect to earn:
Entry-level: $35,000 – $50,000
Early career: $50,000 – $65,000
Experienced: $65,000 – $80,000
Late career: $80,000 – $95,000+
Salaries vary based on location, company, qualifications, and experience. Those working for large brands or in major metro areas tend to earn higher salaries. Overall, this position offers good earning potential in a growing field.
The Demand for Social Media Jobs
Social media has become an indispensable part of how modern organizations operate and interact with their audiences. As social platforms like Facebook, Instagram and TikTok continue to grow in popularity and usage, there has been an exponential increase in demand for social media-related roles.
According to recent labor statistics, jobs in social media are expected to grow over 10% annually over the next decade, vastly outpacing most other industries.
The businesses and organizations that thrive in today's digital landscape almost universally recognize the need to establish a strong and engaging presence on social platforms. They are aggressively seeking social media professionals who can create compelling content, meaningfully connect with users, analyze data, and execute impactful campaigns.
Positions like social media managers, coordinators, specialists, and directors have become highly coveted roles that provide competitive salaries. Even entry-level social media jobs often pay above minimum wage and offer opportunities for rapid advancement.
Professionals with specialized social media skills, experience, and marketing know-how are being recruited aggressively. Many companies even provide social media training and certification programs to develop suitable talent.
Given the scope of social media's dominance in marketing, communications and beyond, experts forecast the demand for knowledgeable social media professionals will continue accelerating rapidly. Whether at large corporations, digital agencies or within a company's marketing department, social media roles provide an appealing and future-proof career path.
Exploring the Best Opportunities
There are many ways to find social media opportunities. For many, the fastest option is to check out the positions listed online, where thousands of new jobs are posted daily.
Online Job Boards for Social Media Careers
Online job boards have become a top resource for those seeking new opportunities in the booming social media industry. Platforms like Indeed, Monster, ZipRecruiter, and LinkedIn enable easy access to an extensive range of social media job listings across diverse fields.
Whether searching for entry-level social media coordinator roles or senior positions like social media manager and director, the major boards aggregate postings from a wide variety of companies and organizations. Job seekers can tailor searches by job title, location, salary range and other filters to pinpoint postings that match their skills and interests.
Niche boards dedicated exclusively to marketing and social media jobs like Mediabistro and Social Media Job Board are also valuable tools. They allow focused searches and build dedicated candidate pools of social media professionals.
Experts recommend opting into job alerts and setting up customized search agents on the top boards to get real-time notifications of new relevant postings. Joining industry-specific boards' email lists can provide similar updates.
With social media emerging as an essential, fast-growing field, routinely checking high-quality online job boards provides a simple yet strategic way to uncover exciting new opportunities and advance one's social media career. The multitude of listings makes them a go-to resource for both social media rookies and experienced professionals seeking their next move.
Here are some of the top online job boards for finding social media job opportunities:
Paying Social Media Jobs – the only job board dedicated to bringing you curated, high-paying social media jobs.
LinkedIn Jobs: This job board has an extensive collection of social media job listings across many industries. You can search by job title and location.
Indeed: One of the largest job aggregators, with a wide range of social media jobs posted daily. You can set up alerts for relevant listings.
Monster: Has a jobs section dedicated specifically to social media and digital marketing roles.
ZipRecruiter: Allows you to search for social media roles like Social Media Manager, Community Manager, Content Creator etc.
Mediabistro: Specialized board for digital media, social media, PR and marketing jobs.
ProBlogger: Useful for social media freelance, blogging and digital gig postings.
Flexjobs: Has remote work listings including social media and marketing roles.
Social Media Today Jobs: Niche board for social media job openings aggregated from around the web.
Social Talent: Digital and social media focused job site with roles globally.
Networking and Social Media Groups
Networking and social media groups play a crucial role in finding high-paying social media jobs. They offer opportunities for professionals to connect, share insights, and learn about job openings. Here's how they can help:
Expand professional networks: Joining these groups helps connect with like-minded individuals in the industry and expand your network.
Stay updated on industry trends: These groups provide valuable information about the latest trends and developments in social media marketing.
Referrals and job opportunities: Networking through these groups can lead to referrals from fellow professionals or even job opportunities that may not be advertised elsewhere.
Showcase expertise: Engaging with thought leaders and participating in group discussions allows you to showcase your knowledge and expertise in social media marketing.
Improve visibility to potential employers: Utilizing social media platforms like LinkedIn and engaging with relevant groups improves your visibility to potential employers who may be looking for candidates for high-paying social media roles.
A Wealth of Opportunities
There are many high-paying social media jobs available for those interested in this field. From social media consultants to online community managers, the opportunities are diverse.
You can find these positions through online job boards and by networking with others in the industry. Start exploring these options and take advantage of the best opportunities out there.