Unlocking Remote Career Paths with Facebook
Finding remote work opportunities in marketing is becoming increasingly popular in the digital age. With so many businesses developing an online presence, there is a growing need for professionals who can help manage and optimize social media marketing efforts. One of the most in-demand skills is being able to do Facebook marketing and related tasks for companies anywhere in the world.
Facebook remains one of the most dominant social media platforms, with over 2.6 billion active monthly users. Businesses big and small use Facebook to reach customers, drive website traffic, promote their brand and products, provide customer service, and more. As more marketing goes digital, businesses are seeking skilled individuals who can help them with a range of Facebook marketing duties on a remote freelance basis.
The increase in remote work and freelancing opportunities in recent years means businesses can connect with marketers all over the world. While some larger companies maintain full-time social media marketing teams in-house, many have found it effective to outsource Facebook marketing tasks to remote freelancers and agencies. This allows access to talent and skills without geographical restrictions.
For digital marketers, taking on remote Facebook marketing work can mean steady income and the flexibility and freedom of freelancing. Specializing in these in-demand skills can position you for many online work opportunities with businesses worldwide. This article explores the types of Facebook marketing work available remotely, the qualifications needed, and tips for getting started.
Types of Facebook Marketing Work Available Remotely
There are several types of Facebook-related marketing tasks that businesses often hire remote freelancers to handle. Some of the most common include:
Facebook Ad Management
One of the most popular uses of Facebook for businesses is running ads. Facebook ads allow businesses to get their content and products in front of relevant audiences. As a remote Facebook ad manager, clients may hire you to:
Create and optimize Facebook ads and multi-ad campaigns
A/B test different versions of ads
Target ads to specific demographics and interests
Analyze ad performance and make optimization recommendations
Facebook Business Page Management
Businesses rely on their Facebook pages to engage followers, share content, and promote their brand. Freelancers can provide page management services such as:
Developing and scheduling social media content and posts
Community management and responding to comments, messages, reviews
Generating analytics reports on page growth, reach, engagement
Facebook Content Creation
Quality visual and written content is key for Facebook marketing. Creative freelancers can provide assets like:
Photos, graphics, and videos optimized for Facebook
Ad copy, captions, updates, and other written content
Customer Service/Chat Support on Facebook
Some businesses hire remote workers specifically to provide customer service and live chat support directly through Facebook features.
Skills & Qualifications Needed
To succeed as a remote Facebook marketing freelancer, there are several important skills and qualifications to have:
Communication Skills: Strong written and verbal communication skills are essential. You'll need to communicate effectively with clients as well as write compelling content for Facebook.
Interpersonal Skills: Marketing requires understanding people and forging positive relationships. Strong interpersonal skills allow you to connect with clients and provide good customer service.
Marketing Knowledge: Some background in marketing principles and strategies is helpful when managing Facebook marketing campaigns and providing clients with optimization advice. Staying on top of Facebook algorithm changes also keeps your skills sharp.
Analytical Thinking: Analyzing Facebook metrics and ad performance requires critical thinking and data analysis skills. These skills allow you to extract insights and make data-driven optimization recommendations.
Social Media Familiarity: Extensive hands-on experience using Facebook as a user and administrator is extremely valuable. An in-depth understanding of how the platform works is key.
Design Skills: For freelancers providing creative services like graphic design and video creation, artistic talent and experience with design tools is important.
The right mix of soft skills and marketing/technical knowledge can position you for success as a Facebook marketing freelancer. Continuously building upon these foundational skills is important for staying competitive.
Pros & Cons
There are several advantages to pursuing remote work opportunities in Facebook marketing:
Flexibility – One major pro is having a flexible schedule and being able to work from anywhere. You can choose your own hours and work during times you are most productive. Remote work means you can travel or relocate and take your work with you.
Income Potential – Specializing in an in-demand digital marketing skill set allows you to command attractive fees, especially as you gain experience. Consistent hard work can lead to a sizable income over time.
Career Development – Managing real-world Facebook marketing campaigns is a great experience that builds up your resume. You'll sharpen valuable skills and gain testimonials that can advance your marketing career.
Interesting Work – Facebook marketing combines creativity and analytics. The ever-changing nature of social media keeps the work dynamic. You get to help businesses grow using one of the world's most popular platforms.
Be Your Own Boss – As a freelancer, you enjoy freedom and independence. You choose which clients and projects to take on. Freelancing lets you have full control over your work.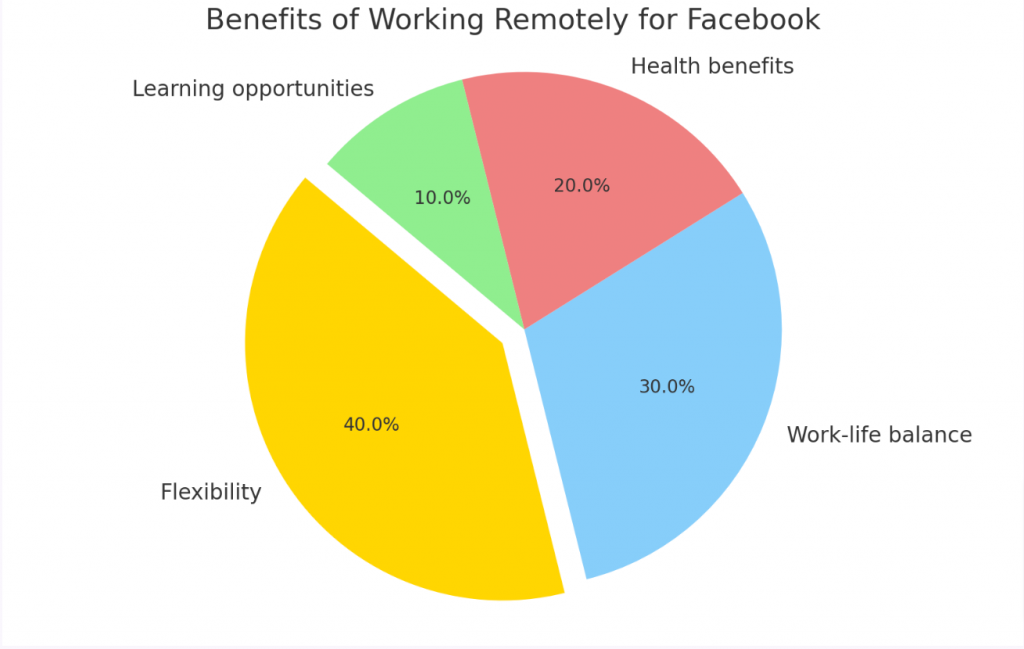 Cons of Doing Remote Facebook Marketing Work
However, there are also some potential downsides:
Inconsistent Work – As a freelancer, your workflow depends on retaining and acquiring clients. Slow periods with less work can happen. You'll need marketing skills to attract a steady stream of clients.
Self-Motivation Is Crucial – Working remotely means you must be very self-driven and disciplined. The flexibility requires a strong ability to stay focused and manage your schedule.
Rapidly Changing Field – Facebook's algorithm and features change constantly, as does the social media landscape. You must be committed to lifelong learning to keep your skills sharp.
Stiff Competition – The remote work boom has more people trying to break into freelance Facebook marketing. Standing out from the competition is essential.
Administrative Tasks – Running your freelance business may involve unpleasant work like bookkeeping, invoicing, taxes, etc. You'll need to be organized.
While rewarding overall, those pursuing freelance Facebook marketing should weigh these pros and cons. Self-motivation and marketing skills are key to thriving in this independent work style.
How to Find Remote Facebook Marketing Jobs
Here is a draft of the next section:
IV. How to Find These Remote Facebook Marketing Jobs
There are several effective ways to find remote freelance job opportunities related to Facebook marketing:
Freelance Job Platforms: Websites like Upwork, Fiverr, and Freelancer.com let businesses post job listings that freelancers can browse and apply for. Creating a strong profile highlighting your Facebook marketing skills is important.
Professional Associations: Joining associations like the American Marketing Association or Social Media Marketing Association provides job boards where members can find remote work opportunities.
Job Boards and Aggregators: Using aggregator sites like FlexJobs and Remote.co allows you to search thousands of remote jobs all in one place. Turn on alerts for Facebook marketing related opportunities.
Directly Pitching to Businesses: Identify brands you want to work with and pitch your services to them directly via email or LinkedIn. Having an online portfolio helps give businesses an idea of what you can offer them.
Combining these approaches provides the most visibility and surfaces more potential opportunities for remote Facebook marketing work. As you build experience and a portfolio, businesses may even start reaching out to you directly for help managing their Facebook presence.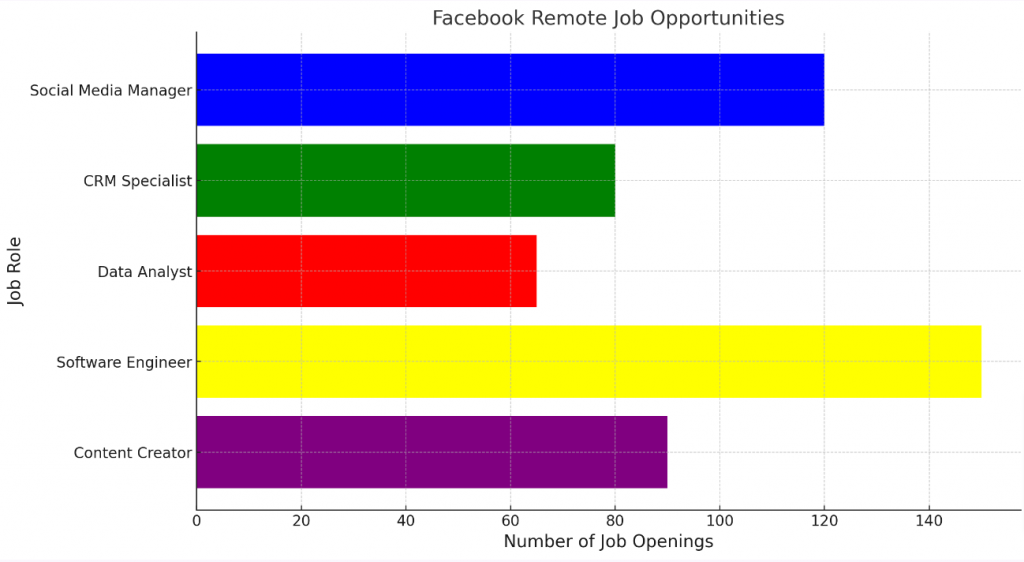 Tips for Success
Here are some tips to help you thrive as a remote freelancer managing Facebook marketing campaigns:
Build a Strong Portfolio: Having samples of your previous Facebook ads, posts, designs, and campaign results is crucial for demonstrating your skills. Share case studies showing measurable success.
Get Reviews and Testimonials: Positive feedback from past clients on marketplaces like Upwork lends credibility. Ask satisfied clients for testimonials you can share.
Be Responsive and Meet Deadlines: Communication and reliability are critical when working remotely. Quickly respond to clients and deliver work on time.
Continuously Learn and Improve: Constantly expand your Facebook marketing knowledge by reading blogs, taking courses, and staying on top of Facebook updates.
Use Productivity Tools and Techniques: Apps like Trello, Calendly, and Asana help you stay organized. Have a schedule and workspace that optimize your productivity.
Set Competitive but Fair Rates: Research standard rates for the work you do but also offer competitive pricing, especially when starting out. Provide value.
Being professional and reliable while also expanding your skills will help you be successful as a remote Facebook marketing freelancer.
A Promising Field
Facebook marketing is a promising field for remote work opportunities. Businesses worldwide need support managing their Facebook presence and promoting their brand through this powerful platform.
As a freelancer, you can provide valuable services like ad management, page management, content creation, and chat support. Backed by marketing knowledge, communication abilities, analytical skills and Facebook expertise, you can gain steady remote work helping brands succeed.
Platforms like Upwork and LinkedIn make it easier than ever to connect with clients anywhere. Building up your portfolio, reviews, and professional network sets you up for success. Delivering great work and expanding your skill set also keeps you in demand with businesses looking to outsource their Facebook marketing needs.
For those interested in flexible remote work grounded in a highly useful skill set, Facebook marketing is worth considering. Additional resources like Facebook's free online training, Social Media Marketing World conferences, and blogs like Social Media Examiner can help you continue learning and stay on top of this dynamic field. With hard work and persistence, Facebook marketing can provide the freedom to work remotely while helping businesses amplify their reach.