Capitalizing on Instagram's Social Marketplace
Searching for a way to earn money from home? Look no further than your Instagram account, where the potential for work-from-home jobs is vast. This article will guide you through various ways to monetize your presence on this popular social media platform – from collaborating with brands to selling products.
Understanding Instagram Jobs
Instagram has become a powerful platform for brands seeking to engage audiences and promote products visually. This has led to growing career opportunities centered around the image and video-focused app. Instagram jobs involve developing viral content, running advertising campaigns, connecting with influencers, analyzing data and insights, and more.
Success requires understanding Instagram's unique culture and audience while tailoring strategies both creatively and analytically. Instagram-focused roles demand skills like visual storytelling through compelling photos and videos, strategizing impactful campaigns and partnerships, writing engaging captions, and tracking performance metrics.
With over 1 billion monthly active users, Instagram provides a thriving environment for marketing, community-building, and content innovation. Professionals with creativity, strategic thinking, and expertise navigating the nuances of the Instagram landscape are well-suited to thrive in Instagram-centered roles across various industries.
Instagram Community Manager
An Instagram Community Manager is responsible for cultivating and engaging a brand's Instagram followers. This involves responding to comments, questions and messages, moderating discussions and interactions, developing relationships with users, and fostering a vibrant community aligned with the brand's goals.
The role requires excellent written communication skills, a friendly and approachable demeanor, social media savvy, and an understanding of how to cultivate an inclusive, positive environment on Instagram. Community Managers create Instagram content like Stories or posts to spark meaningful conversations and build long-term connections with the target audience.
They gather community feedback and insights to inform social media initiatives and product offerings. For those who enjoy connecting with audiences through social platforms, serving as an Instagram Community Manager can be an impactful and fulfilling remote role.
Instagram Content Strategist
An Instagram Content Strategist is responsible for devising and executing a brand's Instagram content strategy to engage their target audience. This involves staying on top of Instagram trends, optimizing different content formats like carousels and Stories, developing engaging captions, and determining optimal posting schedules.
The Content Strategist analyzes platform data and audience insights to identify what types of content, topics and aesthetics resonate most strongly. They work cross-functionally to ensure content aligns with broader marketing initiatives. Strong project management, creative thinking and analytical skills are essential in this role.
Instagram Content Strategists are strategic planners who can translate brand goals into compelling, cohesive content plans that effectively reach, inform and entertain desired Instagram demographics. With content consumption growing rapidly on Instagram, this role is key for brands seeking to cut through the noise.
How to Make Money on Instagram
With over 1 billion monthly active users, Instagram offers lucrative opportunities to monetize your influence and reach as a content creator. One popular money-making approach is becoming an Instagram influencer and collaborating with brands on sponsored posts. Influencers can earn money per post based on their engagement rates and niche audience. Instagram shopping features allow you to tag and sell products directly.
Promoting affiliate links to products and services in your bio is another common strategy. Selling digital products like ebooks or courses and promoting them on Instagram is also profitable for creators in certain niches.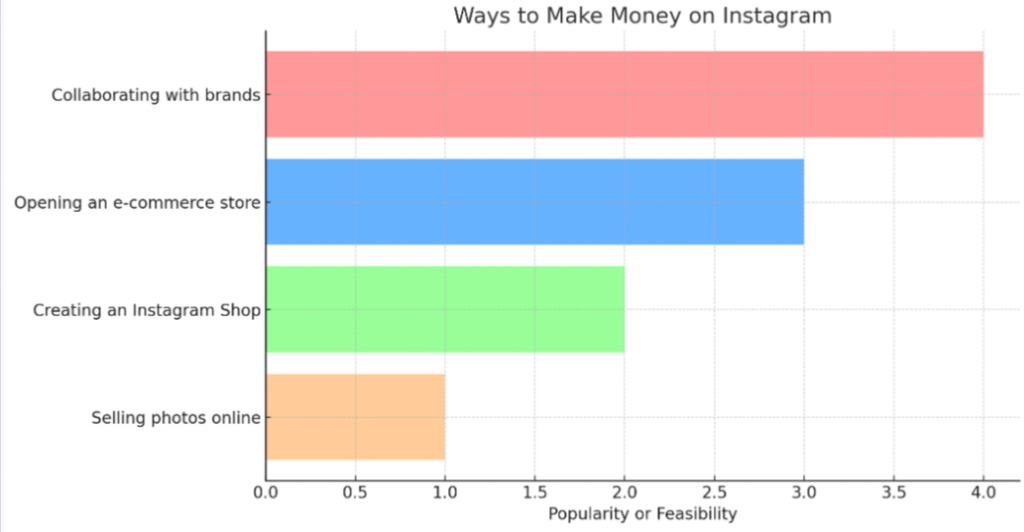 Many brands will also pay content creators to promote their products and services through Instagram takeovers. Taking the time to grow a loyal, engaged following and thoughtfully monetizing that audience through high-quality partnerships, products and content can make Instagram a full-time income stream.
Collaborating with brands for sponsored content
Working with brands is a great way to make money on Instagram. Brands will pay you to post pictures or videos that showcase their products. You can find brands to work with through places like Shopify Collabs.
To show your followers that the content is sponsored, you can use a #sponsored hashtag or Instagram's "Paid Partnership with" tag. It's important for the brands that you have real experience using their product and are honest in your posts about it.
They also look at how many followers you have and who they are. So, having a lot of active and engaged followers can help you get more opportunities to work with brands!
Becoming an affiliate
Making money as an affiliate is easy on Instagram. You just have to drive sales for brands you like and get a share of the profit! You do this by using links or promo codes that track your work.
Many online stores like Amazon Associates let you join their affiliate programs. All in all, becoming an affiliate helps you earn while promoting your favorite brands!
Opening an e-commerce store
To make money on Instagram, you can consider opening an e-commerce store. This means selling products or services directly through your Instagram account. It allows you to reach a wide audience and capitalize on the popularity of the platform.
You can either create your own products or use dropshipping services to sell items from other suppliers. With an e-commerce store, you can showcase your merchandise through high-quality photos and compelling captions, enticing followers to make a purchase directly from your Instagram page.
By opening an e-commerce store on Instagram, you have the opportunity to earn money by selling products that align with your brand or niche. Whether it's handmade crafts, customized merchandise, or even digital downloads like ebooks or courses, there are endless possibilities for what you can offer.
Creating an Instagram Shop
To create an Instagram Shop, all you need is a personal Instagram account that is at least 2 months old. You should have over 100 followers and be following at least 100 other users on Instagram.
An Instagram Shop allows you to sell products directly within the app, making it easier for your followers to purchase items from you. It's a great way to monetize your Instagram presence and expand your business.
Remember, the more followers you have, the higher your chances of making sales.
Selling photos online
One potential way to make money on Instagram is by selling photos online. Content creators can use influencer marketplaces and platforms like Shopify Collabs to connect with brands looking for high-quality images.
These collaborations can involve creating sponsored content or selling the rights to the photos directly. Additionally, content creators have an advantage in selling their own products since they already have a large amount of content and can seamlessly integrate product promotion into their posts.
By leveraging their photography skills and existing audience, content creators can generate income by monetizing their photos on Instagram.
Monetizing content
There are several ways to monetize content on Instagram and start making money. One way is by collaborating with brands for sponsored content. Brands pay influencers to promote their products or services on Instagram, reaching a wider audience.
Another option is becoming an affiliate, where influencers earn a commission for promoting products and driving sales through unique referral codes or links. Additionally, opening an e-commerce store allows influencers to sell their own merchandise or partner with print-on-demand suppliers.
Selling photos online can also be profitable, as some brands or individuals may purchase high-quality images for various purposes. Moreover, creating an Instagram Shop enables influencers to showcase and sell products directly within the app.
The Potential Earnings on Instagram
Curious about how much Instagram influencers make and the number of followers needed to start earning on the platform? Find out in this section! Read more to uncover the potential earnings on Instagram.
How much do Instagram influencers make?
Instagram influencers can make a decent income from their social media presence. On average, they earn around $2,970 per month by working about 28.7 hours per week. However, it's important to note that these figures are just averages, and the actual earnings can vary greatly depending on factors such as the influencer's niche, engagement rate, and number of followers.
Micro-influencers with as little as 1,000 followers can also start making money on Instagram through sponsored content and collaborations with brands. That being said, the sweet spot for earning seems to be between 500,000 to one million followers.
So if you're looking to make money as an Instagram influencer, focus on growing your following and creating engaging content.
The number of followers needed to start earning
To start earning with Instagram Work From Home Jobs, you don't need a massive following. All you need is a personal Instagram account that has been active for at least 2 months and has 100 or more followers.
Plus, make sure you are also following at least 100 other Instagram users. Having this minimum follower count and engagement will give you the opportunity to collaborate with brands for sponsored content, become an affiliate, sell products or services through your own e-commerce store or Instagram Shop, and even monetize your content in various ways.
So don't worry about having thousands of followers just yet – you can start earning with a smaller but engaged audience!
How to Apply for Instagram Jobs
Learn the steps to apply for Instagram jobs and start earning money with your social media skills. Ready to take your Instagram game to the next level? Read more now.
Becoming a freelance Instagram marketer
If you're interested in becoming a freelance Instagram marketer, there are some steps you can take to get started. First, make sure you have a good understanding of Instagram marketing strategies and trends.
You'll need to know how to create engaging content, target specific audiences, and measure the success of your campaigns. It's also important to have strong communication skills as you may be working directly with clients or brands.
Building a portfolio of successful campaigns can help showcase your skills and attract potential clients. Additionally, consider getting certified in Instagram marketing or taking relevant courses to further enhance your knowledge and credibility in the field.
Leverage Your Social Media Skills
Instagram offers a variety of work from home jobs that allow you to make money with social media. Whether it's rating ads on Instagram or becoming a freelance Instagram marketer, there are opportunities for everyone.
With flexible hours and the ability to work from anywhere, these jobs are perfect for stay-at-home parents, college students, or anyone looking to earn extra cash. So why not leverage your social media skills and start making money on Instagram today?.