Unlocking the Potential of LinkedIn Remote Jobs
Looking for the perfect remote job on LinkedIn? Did you know that remote jobs account for less than 20% of all jobs posted on LinkedIn but receive half of all applications? In this article, I'll guide you through the vast landscape of LinkedIn's remote jobs and share effective strategies to highlight your profile and make it stand out among other applicants.
Understanding the Landscape of Remote Jobs on LinkedIn
Navigating the landscape of remote jobs on LinkedIn requires a keen understanding of both the platform's features and the evolving job market. LinkedIn has become a go-to resource for remote job opportunities, offering a wide range of positions across various industries and skill levels.
The platform allows you to filter job searches specifically for remote roles, making it easier to find positions that align with your career goals and lifestyle preferences. Companies are increasingly posting remote positions on LinkedIn, recognizing the platform's reach and the growing demand for work-from-home options.
It's not just tech companies or startups; traditional industries like healthcare, finance, and education are also embracing remote work, broadening the scope of opportunities available.
Additionally, LinkedIn provides valuable insights into company culture, employee reviews, and networking opportunities, giving you a comprehensive view of potential employers. Understanding this landscape is crucial for job seekers looking to capitalize on the flexibility and diversity of remote work opportunities.
The Different Types of Remote Work
There are many types of remote work you can find on LinkedIn. Each type has different needs and benefits.
Fully remote jobs: In these jobs, you work from home all the time. You do not need to go to an office.
Hybrid work environments: These jobs mix home and office work. Some days you work from home, other days at the office.
Remote jobs with flexible schedules: In these roles, you can pick your work hours. This helps balance work and life.
Freelance skills-based roles: You do not have a boss in these jobs. You pick who you want to work for and what projects to take on.
Global talent acquisition roles: These jobs let you find new workers for a company from your home.
Industries with the Largest Share of Remote Jobs on LinkedIn
The largest share of remote work opportunities on LinkedIn come from several key US industries. These industries understand the value of remote work and are leading the charge in offering such positions to prospective employees.
| Industry | Description |
| --- | --- |
| Healthcare and Pharmaceuticals | This industry has a large remote workforce in roles such as telehealth nurses, pharmaceutical sales representatives, and remote medical coders. |
| Technology and Software | Remote positions in this sector often include software developers, data scientists, and IT consultants. Tech companies have always been at the forefront of the remote work revolution. |
| Financial Services | Remote jobs in the financial services industry can include roles such as financial advisors, insurance underwriters, and accountants. |
| Education | With the rise of online learning, positions for remote educators, instructional designers, and eLearning consultants have become more prevalent. |
| Media and Communications | This industry offers remote jobs for roles like writers, editors, graphic designers, and social media managers, among others. |
How to Optimize Your LinkedIn Profile
Optimizing your LinkedIn profile is essential for standing out in a competitive job market and making meaningful professional connections. Start by crafting a compelling headline that succinctly describes your expertise and career goals.
Your summary should be a brief yet impactful narrative that highlights your skills, experiences, and what you bring to the table. Use keywords relevant to your industry to improve your profile's visibility in search results. Make sure to list all your relevant work experiences, projects, and achievements, using quantifiable metrics whenever possible to demonstrate your impact.
High-quality recommendations from colleagues or supervisors can add credibility to your profile. Don't overlook the 'Skills & Endorsements' section; populate it with skills that are pertinent to your career and seek endorsements from your network. Adding multimedia elements like presentations, videos, or portfolios can make your profile more engaging.
Finally, engage with your network and industry-related content to show that you're active and up-to-date with the latest trends. A well-optimized LinkedIn profile not only enhances your online professional persona but also increases your chances of being noticed by recruiters and potential employers.
Incorporate Remote Work Skills
You must show off your remote work skills on your LinkedIn profile. These are skills like time management and clear talking. They also include using tools for remote work, such as Slack or Zoom.
Many employers look for people who have these skills already. Put these skills in the "Skills and Endorsements" part of your profile. You can get more ideas from the "Finding a Remote Job" course on LinkedIn Learning.
They teach about more ways to make your profile better for remote jobs.
Use Relevant Keywords in Your Profile
Make your LinkedIn profile sparkle with the right keywords. Keywords help you show up in job search results. They link you to remote jobs that fit your skills and interests. Use words like "remote work", "work from home", or "distributed team".
These words are often used by firms offering online jobs. Using them might catch the attention of these employers. It's a good way for them to see you can do the kind of work they need.
Strategies for Finding Remote Jobs on LinkedIn
Finding remote jobs on LinkedIn involves a combination of proactive searching and strategic networking. Start by using the platform's advanced job search feature, where you can filter positions by location, opting for "Remote" to narrow down your options.
Make use of relevant keywords that align with your skill set and career goals to find job listings that are a good match. Don't just rely on job postings; leverage your network by reaching out to connections who work in companies or industries you're interested in. A personalized message can go a long way in getting referrals or inside information on upcoming remote opportunities.
Join LinkedIn groups focused on remote work or your specific industry to stay updated on job openings and to connect with like-minded professionals. Regularly engage with content related to remote work and your field to increase your visibility and attract potential employers. Also, consider setting up job alerts for remote positions to receive notifications directly in your inbox.
By adopting a multi-faceted approach, you'll increase your chances of landing the perfect remote job through LinkedIn.
Utilize Job Search and Application Features
To find remote jobs on LinkedIn, make use of the job search and application features available on the platform. Here's how:
Use the "Jobs" tab on LinkedIn to search for remote positions that match your skills and qualifications.
Narrow down your search by using filters such as location, industry, and job function to find remote jobs that align with your preferences.
Set up job alerts to receive notifications about new remote job postings that match your criteria.
Customize your applications for each remote job you apply for. Tailor your resume and cover letter to highlight your relevant experience and skills for remote work.
Take advantage of LinkedIn Learning courses to enhance your remote work skills and showcase them in your profile.
Connect with industry professionals and join relevant LinkedIn groups to expand your network and increase your chances of finding remote job opportunities.
Attend virtual events hosted by companies or organizations in your desired industry to network with potential employers.
Remote jobs received 50% of all applicants on LinkedIn in February 2022.
Employers are more interested in your ability to do the job well rather than your lifestyle preferences during interviews for remote jobs.
Leverage Networking and Social Media Tools
You can use networking and social media tools to help you find remote jobs on LinkedIn. Here are some ways to do it:
Connect with industry professionals on LinkedIn.
Join relevant LinkedIn Groups to expand your network.
Attend virtual events and webinars to meet potential employers.
Use social media platforms like Twitter and Facebook to follow companies hiring for remote jobs.
Engage in online communities focused on remote work to gain insights and connect with like – minded individuals.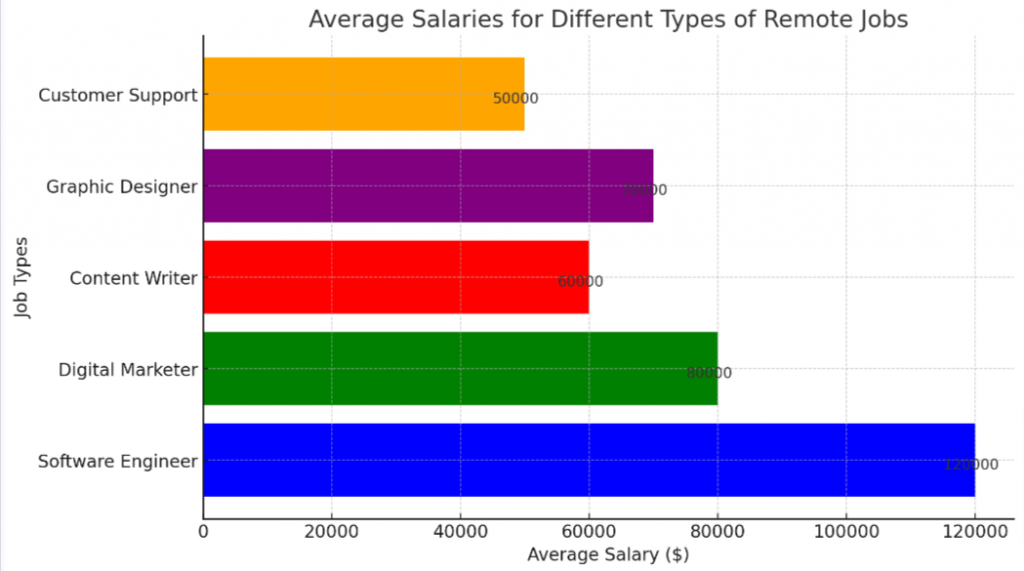 Tips for Nailing the Remote Job Interview
Prepare for common interview questions and showcase your remote work skills to impress recruiters and increase your chances of securing a remote job.
Preparation for Common Interview Questions
Preparation for common interview questions is crucial for nailing a remote job interview. Here are some key points to keep in mind:
Focus on your experience working remotely and highlight any successes or achievements.
Be prepared to discuss the challenges of remote work and how you have overcome them in the past.
Explain your preferred work environment and how you create a productive remote workspace.
Share how you manage your workday, including your time management strategies and organizational skills.
Show that you are a proactive communicator by providing examples of how you stay connected with your team and clients remotely.
Be ready to talk about how you maintain work-life balance in a remote work-from-home environment.
Showcase Your Remote Work Skills
Highlighting your remote work skills is crucial when applying for remote jobs on LinkedIn. Employers want to see that you have the necessary abilities to excel in a virtual work environment.
Emphasize skills such as self-motivation, time management, and effective communication. Discuss how you've successfully worked remotely in the past, managing tasks independently and collaborating with team members virtually.
Use concrete examples to demonstrate your ability to adapt to a remote work culture and effectively navigate communication tools like Zoom and Slack. By showcasing your remote work skills on LinkedIn, you'll stand out as a qualified candidate for remote job opportunities.
Land Your Ideal Role
LinkedIn is a valuable platform for finding the perfect remote job. By optimizing your profile and using relevant keywords, you can increase your chances of getting noticed by employers.
Utilizing the job search features and networking tools on LinkedIn can help you connect with industry professionals and discover remote job opportunities. With the right preparation and showcasing your remote work skills during interviews, you can land your ideal online role through LinkedIn.