Leveraging LinkedIn for Remote Work: Your Comprehensive Guide to Working from Anywhere
With over 740 million members, LinkedIn has become the world's largest professional networking platform. But it has also evolved into a robust source of remote work opportunities.
LinkedIn's massive user base offers access to connections, clients, and recruiters worldwide. This global reach, combined with LinkedIn's versatile tools for posting jobs, building a personal brand, and engaging with audiences, enables impactful careers based entirely on the LinkedIn ecosystem.
Professionals in fields ranging from writing and editing to programming and consulting have leveraged LinkedIn to build remote work careers and flexible side gigs. LinkedIn remote jobs allow the freedom to work from home, a cafe, or anywhere with an internet connection.
This article explores the types of work from home jobs accessed through LinkedIn, tips for standing out to remote employers, and how to maximize LinkedIn's features for professional advancement. For those seeking remote work opportunities, cultivating a strong personal brand and network on LinkedIn can be a valuable investment in your career, both now and in the future.
Types of Work from Home Jobs Available on LinkedIn
LinkedIn accommodates diverse remote work roles across industries. Roles range from creative positions focused on developing content, and managing social media presence to technical roles in software engineering, and cybersecurity.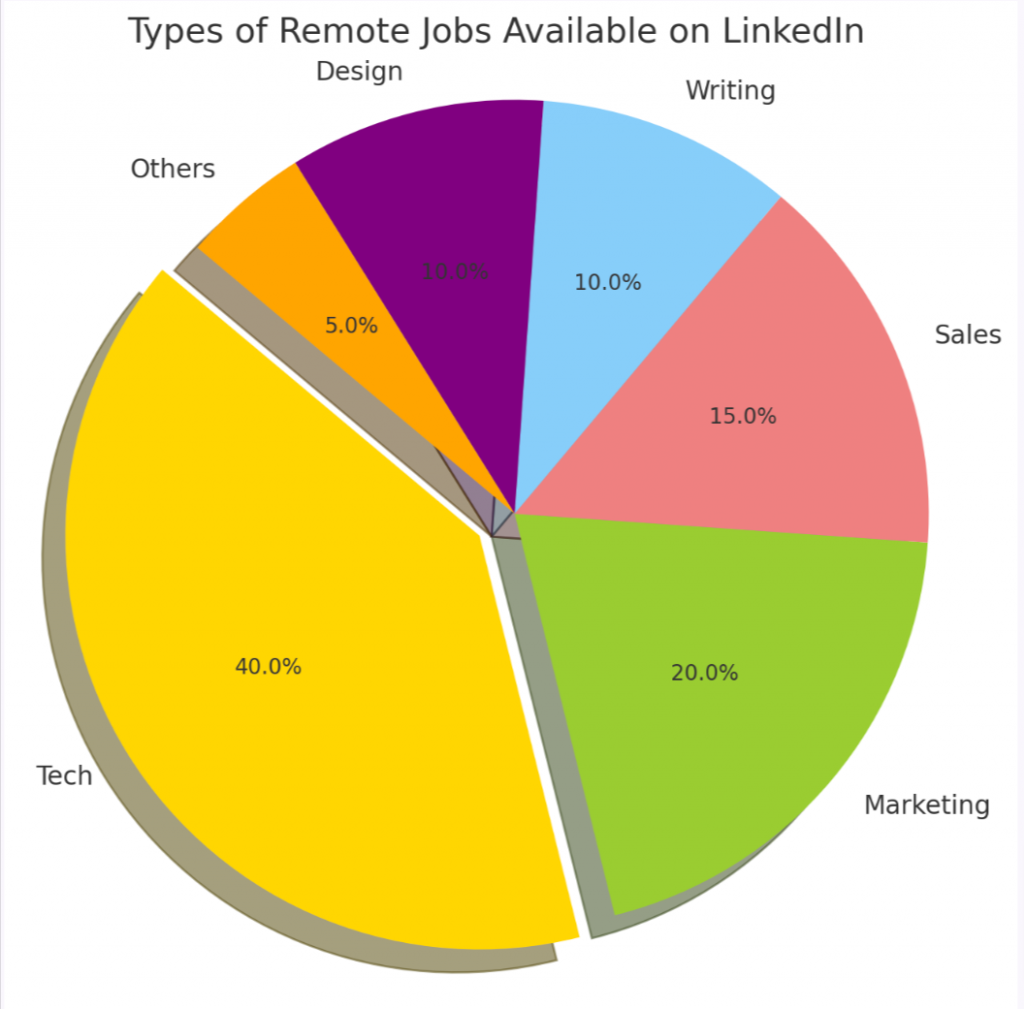 There are also remote consulting and strategy positions across fields like marketing, HR, finance and more that leverage professional expertise. Overall, LinkedIn makes it possible to find remote work opportunities tailored to most skills and experience levels. Here are some examples of jobs you can find in this area of work.
Virtual Data Entry Assistant
A virtual data entry assistant performs administrative data entry tasks remotely for various clients. Primary duties include inputting data into databases and spreadsheets with speed and accuracy, verifying data for errors, processing forms and documents, transcribing audio files, compiling reports, and organizing information.
Strong typing skills, proficiency with data entry programs and attention to detail are essential. Success in this remote role requires being organized, productive and diligent without in-person supervision.
Effective communication skills are also vital for coordinating smoothly with remote managers and clients. Virtual data entry provides flexible income opportunities for those interested in clerical work from home. Meticulous individuals who thrive executing repetitive administrative tasks will find the virtual data entry assistant role rewarding.
Customer Service Representative
You can be a Customer Service Representative and work from home on LinkedIn. This job is great for people who are good at talking on the phone or using their computer to chat with customers.
You will need to help folks solve problems, answer their questions, and make sure they enjoy using the product or service that your company gives.
It does not matter if you are new to work or have been working for years – there's a spot for everyone! The pay is also fair, between $40,000+ all the way up to $120,000+.
Administrative Specialist
An Administrative Specialist provides a range of clerical and administrative support duties to assist with office operations and procedures.
Common responsibilities include managing calendars and schedules, arranging meetings, preparing documents, organizing files, and processing invoices. You may also help with fielding phone emails, verifying data, handling mailings and inventory orders.
Strong communication and organizational skills are crucial to complete administrative tasks and prioritize duties. In a remote setting, Administrative Specialists must demonstrate diligence without in-person oversight.
They act as a liaison between departments and vendors/clients. With a methodical approach to office procedures and efficient coordination, Administrative Specialists play an integral role in optimizing workflows and productivity.
How to Apply for Work from Home Jobs
Using LinkedIn to find and apply for work from home jobs is easy. Here's how:
First, log into your LinkedIn account.
Click on the 'jobs' tab in the menu at the top of the page.
Use the search bar to type keywords like "work from home", "online" or "remote".
To view jobs posted most recently, use filters such as 'Past 24 hours', 'Past Week' or 'Past Month'.
Look up jobs by salary range, from $40,000+ to $120,000+. Just click on the salary filter option and choose your desired range.
Focus on specific job types such as full-time, part-time or contract using the 'Job type' filter.
You can search for job posts in various cities like New York, NY; Atlanta, GA; San Francisco, CA; Sacramento, CA; or Anchorage, AK using the location filter.
Scroll through listed jobs and choose one that suits your skills and interest.
Once you find a job of interest, click on it for more details.
Read all about the job's duties and requirements before applying.
Benefits of Working from Home
Remote work found through LinkedIn can offer numerous benefits to individuals seeking remote work opportunities. Firstly, the flexibility of working from home allows individuals to create a better work-life balance.
They can save time and money by avoiding long commutes and have more time for family, hobbies, or personal pursuits.
Secondly, remote work on LinkedIn provides access to a wide range of job opportunities across various industries. With thousands of work-from-home jobs available, individuals can explore different roles and industries that align with their skills and interests.
Working remotely through LinkedIn enables individuals to expand their professional network beyond geographical limitations. They can connect with professionals worldwide, collaborate on projects, and gain exposure to diverse perspectives.
In addition to these benefits, many remote positions listed on LinkedIn offer competitive salaries and other perks such as flexible schedules or the option for part-time work. This allows individuals to earn a good income while enjoying the freedom of working from home.
Overall, remote jobs posted on LinkedIn provide flexibility in balancing personal life and career goals. With a vast array of job options available across industries and the potential for an attractive salary package, it's no wonder that more people are exploring remote work opportunities through this platform.
Remote Work Opportunities
LinkedIn offers a wide range of work from home jobs that allow individuals to work remotely from anywhere. With thousands of job listings available and the ability to filter by criteria such as location, salary, and experience level, finding the right opportunity is made easier.
Whether you're looking for a virtual data entry assistant role or a customer service representative position, LinkedIn provides numerous options for those seeking flexible remote work opportunities.
Start exploring today and take advantage of the benefits that working from home can offer.