Embracing Remote Social Media Careers: Tips for Optimal Flexibility and Income
For social media professionals, the rise of remote work opportunities represents an incredibly appealing option for career growth and enhanced lifestyle flexibility. Remote social media jobs allow skilled individuals to leverage their expertise to thrive professionally while working comfortably from home.
Remote roles in social media cover diverse responsibilities like creating compelling content, managing brand communities, developing data-driven strategies, and driving engagement through paid campaigns. Professionals can collaborate with international teams and clients without ever leaving their home office.
The obvious advantage is the unparalleled location freedom. Remote workers can live anywhere with reliable internet access – whether a bustling metropolitan area or a secluded beachside town. The flexibility also provides the chance to create your ideal work schedule and set up a customized workspace. Without long commutes, the improved work-life balance reduces stress and increases job satisfaction.
Financially, talented remote social media specialists can command competitive salaries on par with similar in-office roles. They also save significantly on expenses like transportation, childcare and wardrobe costs. The combination of strong earning potential and vastly reduced living costs allow remote workers to rapidly accelerate savings while enjoying an enhanced quality of life.
For social media experts eager to escape the confinement of cubicles without sacrificing career growth, remote work delivers the ideal solution. The array of remote social media positions makes it possible to craft your dream role that offers purpose, flexibility and financial freedom.
Top Remote Social Media Roles
The remote work boom has expanded opportunities for social media experts across diverse specializations. Here are 10 of the most in-demand remote social media roles right now:
Social Media Manager – Social media managers create strategies, manage content calendars, oversee campaigns, track analytics, and generate insights to optimize branded profiles and engagement. Strong project management and communication skills are key.
Content Creator – Content creators develop branded posts, images, videos, and Stories across platforms that resonate with target audiences. Creativity, writing, and knowledge of platform algorithms are vital.
Community Manager – Community managers interact with followers by responding to queries, moderating discussions, and building relationships. They represent brands through social listening and engagement.
Social Media Analyst – Analysts monitor engagement data, track campaign metrics, research competitors, and translate insights into strategic recommendations to enhance impact.
Social Media Strategist – Strategists conduct market research to develop data-driven social media strategies aligned with business goals across platforms and campaigns.
Account Manager – Account managers serve as liaisons between clients and internal creative teams to ensure campaign outcomes align with client objectives and brand positioning.
Content Marketing Writer – Content writers develop blogs, emails, ebooks, guides, and other materials that attract and engage niche audiences while promoting brand initiatives.
Social Media Sales Specialist – Sales specialists prospect potential clients, devise social media solutions to meet their needs, and leverage social presence to boost visibility and generate new business.
Social Media Buyer – Buyers manage ad accounts, create optimized targeted campaigns across platforms, manage budgets, and track campaign performance to derive insights.
Social Media Designer – Designers create on-brand social posts, ads, infographics, images, videos, and Stories using design thinking principles tailored to each platform's specifications.
With this diverse range of impactful specialties, social media experts can identify the remote opportunity that best matches their skills and interests to thrive professionally while working flexibly.
With this range of essential specialties, social media professionals have flexibility to design their ideal remote role focused on their unique talents and interests.
Required Skills and Qualifications
To thrive in a remote social media role, certain crucial skills and attributes are required to effectively manage your workload and collaborate virtually.
Communication is key. With remote work, conversations occur predominantly over email, chat and video calls. Strong written and verbal communication skills ensure ideas are conveyed clearly. Active listening and messaging abilities are also important for collaborating across dispersed teams.
Time management and self-motivation are essential without direct oversight. Being productive independently, prioritizing tasks, and meeting deadlines is vital for remote professionals. Comfort with technologies like project management software enables seamless collaboration.
Creativity and writing skills allow remote workers to connect with audiences through engaging social posts and campaigns. The ability to craft compelling messages tailored to each platform is invaluable. Knowledge of design thinking facilitates brainstorming creative content formats.
Analytical and technical abilities help distill data into actionable insights to inform social efforts. Proficiency with tools like Google Analytics and Meta's Business Suite provides an edge. Technical skills to troubleshoot issues are also useful when working independently.
Of course, extensive knowledge of major social platforms and best practices is expected. Understanding social algorithms, trends, and emerging features ensures you optimize activities.
With remote arrangements growing, social media professionals who master these abilities and technologies can access abundant opportunities and achieve unrivaled autonomy through virtual roles.
Finding Remote Social Media Jobs
For social media experts seeking remote work, there are ample resources and platforms to uncover exciting opportunities:
Job Boards: Mainstream job boards like Indeed, LinkedIn, and FlexJobs have specific remote filter options, making it easy to pinpoint remote social media roles. Niche sites like We Work Remotely and RemoteOK also focus exclusively on remote jobs. Setting up alerts is recommended.
Professional Associations: Organizations like the Nonprofit Professionals Advisory Group, American Marketing Association, and International Association of Business Communicators post remote social media jobs and have job boards.
Facebook Groups: Joining industry-specific Facebook Groups for remote professionals can provide insider job listings. Digital Nomads Forum, Social Media Marketing Remote Jobs, and Remote Digital Marketing Jobs are a few top options.
Company Sites: Many brands list remote social media openings on their own careers pages. Regularly check sites of companies you'd like to work with for opportunities.
Freelancing Sites: Sites like Upwork, Fiverr and Freelancer have freelance social media gigs that can transition into ongoing remote work. Building your profile and ratings on these sites helps land jobs.
With remote arrangements becoming normalized, social media experts willing to search across diverse platforms and tap into their professional networks can uncover their dream home-based role. The abundance of openings makes discovering that perfect remote opportunity simply a matter of dedication and persistence.
Standing Out as a Remote Candidate
When applying for remote social media positions, it's important to showcase your abilities to excel working independently. Here are tips to make your application stand out:
Tailor Resume/Cover Letters – Clearly highlight relevant remote experience and skills on your resume. Emphasize successes like driving engagement, creating viral content, or leading remote teams.
Showcase Tech Abilities – Include proficiencies with collaboration tools, project managers, videoconferencing, analytics programs and other technologies vital for remote work.
Develop an Online Portfolio – Curate a professional website, LinkedIn profile, or social media portfolio displaying your specialized social media expertise through writing samples, campaigns, testimonials and certifications.
Highlight Remote Capabilities – Stress your self-motivation, communication skills, productivity, and comfort working with dispersed teams and managing up remotely.
Address 'Why Remote?' – Share why a remote role aligns with your values, interests, and professional goals in your cover letter. Demonstrate passion for remote work.
Have a Tech Setup – Being prepared with a quiet, distraction-free home office setup and reliable internet demonstrates readiness to onboard remotely.
Taking time to creatively customize your application demonstrates you have what it takes to not only handle remote work, but thrive without in-person supervision. Showcasing your specialized expertise and abilities can get you instantly noticed. Following these tips will put you leaps ahead of other applicants when that dream remote opportunity emerges.
Tips for Succeeding as a Remote Worker
Making the most out of a remote social media role requires adopting strategies to collaborate effectively, stay motivated, and achieve work-life balance:
Define Your Home Office Setup – Designate a quiet, professional workspace with reliable Wi-Fi and equipment. Get properly dressed for "work" to boost productivity.
Schedule Regular Communication – Set up daily check-ins via chat, weekly video calls, and project meetings. Overcommunicate to avoid misalignments.
Leverage Project Management Tools – Use Asana, Trello, Basecamp, Google Drive and other tools to assign tasks, share files, track projects, and facilitate hand-offs between time zones.
Avoid Burnout with Breaks – With no commute separating work and personal time, build in breaks for meals, exercise, errands. Set a cutoff time to be done working.
Measure and Report – Quantify your results often with data like engagement rates, traffic, and conversions. Visibly demonstrate your remote value.
Be Proactive – Seek feedback, ask questions early, share ideas, and get ahead of issues before they escalate. Don't wait for direction.
Build Bonds – Make bonds with far-flung colleagues through chatting about non-work topics and optional virtual socializing. Find remote communities.
Adopting these best practices ensures you collaborate seamlessly, nurture relationships, maximize productivity, and minimize miscommunications. By proactively setting yourself up for remote success, you'll excel professionally while enjoying your ideal lifestyle.
The Future of Remote Social Media Roles
The growth in remote social media roles is projected to accelerate exponentially in coming years as more organizations adopt remote and hybrid work models.
According to surveys, a majority of companies will allow employees to work remotely at least part-time post-pandemic. Recruiting data also shows fully remote social media job postings on sites like LinkedIn jumped over 150% since COVID-19 began.
As competition intensifies for remote talent, employers will strive to make compensation and benefits compelling. Leading companies are also optimizing remote training, implementing inclusive policies, and investing in technologies to enhance the virtual experience.
While fully remote roles will expand, hybrid remote-office arrangements are likely to dominate, blending the flexibility of offsite work with the community of in-person collaboration.
Overall, as remote work transforms from novelty to norm, skilled social media professionals will find more fulfilling opportunities than ever before to build their careers from anywhere.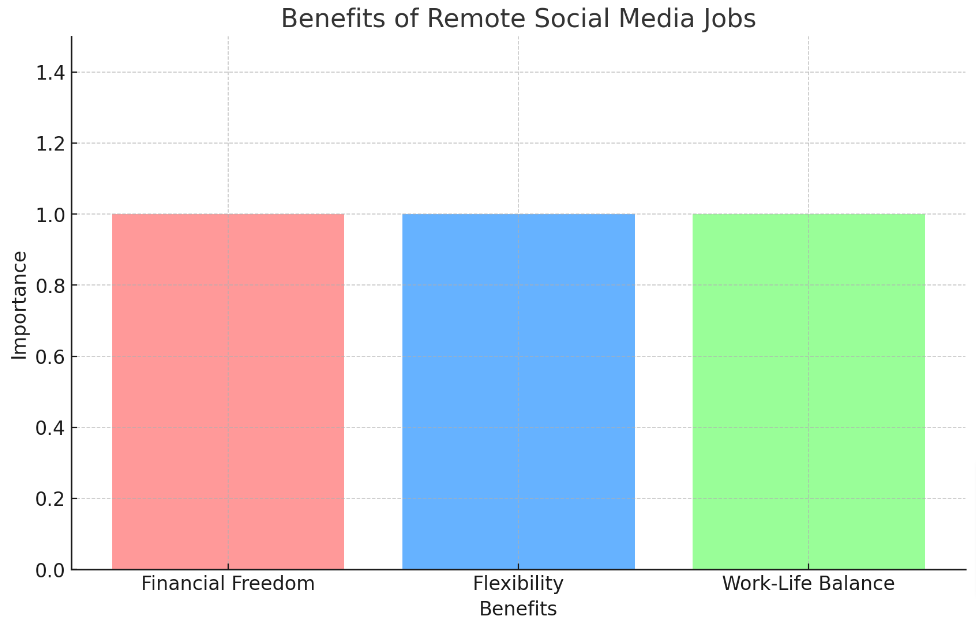 Escape the Cubicle
Remote social media jobs provide the ideal way for marketing professionals to escape cramped cubicles without sacrificing career advancement or financial success. With abundant remote openings across specialties, social media experts can handpick a tailored role aligned with their skills and lifestyle goals. While finding and transitioning to remote work requires dedication, those who leverage resources and showcase their capabilities can unlock unparalleled autonomy and work-life balance.
For anyone seeking purposeful work on their own terms that pays competitively, remote social media jobs deliver on that promise of freedom and flexibility today. Those eager to take their career to the next level on their own terms should browse open remote work from home jobs to get started designing their ideal lifestyle.